Get your service apartment in Hong Kong with ideal location
Apartment.We are Hong Kong serviced apartment provider. Located in Causeway Bay, Sheung Wan and Sai Ying Pun, we offer high quality service apartment in Hong Kong. Each location takes 1 to 15 mins walk to MTR station.
Our service apartment located in Hong Kong Island. For the apartment in Hong Kong Island Causeway Bay, it takes 3 mins walk to Causeway Bay MTR station, 5 mins to Shopping area and 8 mins to Hong Kong Stadium. For the one in Sheung Wan, it takes approximately 15 mins walk to Airport Express Hong Kong Station, 5 mins to HK Macau Ferry Terminal, 14 mins to Sheung Wan MTR Station. Our service apartment in Hong Kong Sai Ying Pun, it takes only 1 min walk to MTR Sai Ying Pun Station, 10 mins to The University of Hong Kong and 3 mins to the tram stop, locates at the cross of Des Voeux Road West and Eastern Street.
There are many pros for choosing Hong Kong service apartment like Apartment.We. Firstly, the concierge will assist guests with individual travel and social arrangements, each concierge is a master of organization. If you want to have an inside knowledge of Hong Kong local area and its transport links, drama shows, movie theatre and restaurants. Apartment.We in Hong Kong provide a secure, comfortable environment, serviced apartments offer a home-from-home comfort. All apartments include separate living and sleeping spaces as well as all the entertainment equipment such as TVs, free Wi-Fi and cleaning service.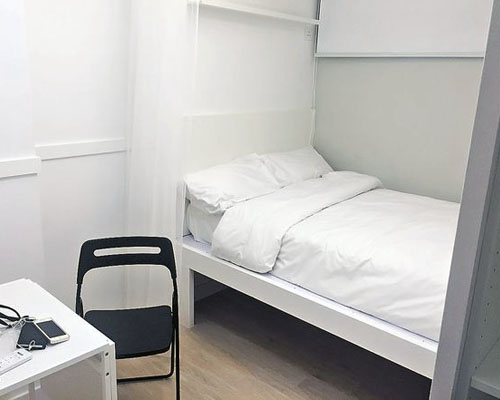 Living environment is so important that will make you replenished and refreshed after a long day work. Another thing you need to treat yourself is a big meal. Apartment.We in Hong Kong offers you a fully-equipped kitchen, that will especially beneficial for longer stays and cooking-lover. For the times when you simply don't wish to cook, you can go down stairs and walk for few mins to the restaurants nearby.
Staying in a serviced apartment is an exclusive, customized experience like nothing else. Special requests can be offered by advance booking and calling to the concierge. For the one who need privacy, Hong Kong service apartment would be a good choice. Once you booked your serviced apartment, you can relax, work and even gathering with your friends at home at any given moment. There's no need to reserve a conference room for a meeting, a restaurant for meal. And all the meeting and gathering can simply just host it in the living room or dining room. And for when you're entertaining friends or family you can relax in the privacy the apartment guarantees with no fear of disturbing anyone else. All units of Apartment.We have good security and the management fee is included in the rent.